press release
For Immediate Release
Los Angeles
March 8, 2006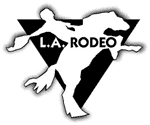 LA RODEO ANNOUNCES THE LIFE GROUP LA AS 2006 BENEFICIARY
LOS ANGELES, CA (March 8, 2006)—The Greater Los Angeles Chapter of the Golden State Gay Rodeo Association, producers of the LA Rodeo, are pleased to announce that The Life Group LA has been selected as the organization's beneficiary for 2006.
Founded in 2005, The Life Group LA provides free of charge, much needed information and emotional support through medical forums, emotional support groups and the POZ Life Weekend Seminar to persons who are either infected or affected by HIV/AIDS.
Bill Powell, president of the Greater Los Angeles Chapter of GSGRA announced the selection today: "On behalf of the board and membership of the LA Rodeo, we are pleased to provide this much needed financial and emotional support to The Life Group LA's Poz Life Weekend Seminar series. Through our efforts, we know that several hundred people's lives will be positively impacted. Supporting their future health and well-being is something that we are proud to be a part of."
The Poz Life Weekend Seminar is a 20-hour educational series of workshops that deal with living effectively with HIV/AIDS. Conducted quarterly, the seminar is designed for individuals who are newly infected, long term survivors, significant others, and HIV healthcare providers. Topics include HIV Drug Treatment Options, Insurance and Public Benefits, Stress Management, Alternative and Complementary Therapies, Gynecological Manifestations of HIV, Nutrition, Medication Adherence, Recreational Drug Use, Clinical Trials, and HIV Disclosure. There is no charge to the participants and includes food and childcare.
Sunnie Rose, co-founder of The Life Group LA was pleased at the announcement. "I am thrilled that the LA Rodeo has decided to support The Poz Life Weekend Seminars this year. Our program provides a safe and supportive environment that impacts participants on an emotional, psycho-social, and educational level as well as acting as a conduit of access to care and POZ life enhancement."
ABOUT THE LA RODEO
The LA Rodeo, produced by the Greater Los Angeles Chapter (GLAC) of the Golden State Gay Rodeo Association (GSGRA) is August 3-6, 2006 at the Burbank Equestrian Center. The weekend's activities include over 20 rodeo events, a festival of vendors and activities, evening dances, and entertainment. Since its inception 21 years ago, GLAC has donated over $45,000 to various organizations that provide services and support to individuals and families in need.
CONTACT:
Tim Gales or Brian Houck
(818) 307-2850
marketing@larodeo.com
For more information, visit www.larodeo.com.
Because It's Your Life!
Most Sincerely,
Sunnie Rose
Executive Director
The Life Group LA