press release
For Immediate Release
Los Angeles
August 23, 2006
The End of an ERA, and Fresh, New Beginnings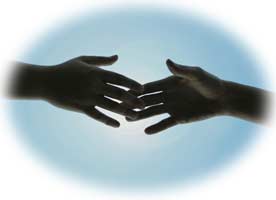 In light of the sudden closing of LA Shanti, one of LAs oldest HIV/AIDS service organizations, The Life Group LA and it's fiscal partner Being Alive LA have extended their hands to welcome Shanti clients that have been displaced as a result of this closure. Former Shanti support group attendees and their facilitators will be offered the opportunity to find in The Life Group LA and in Being Alive LA a new home for their respective groups, or to simply find a place for closure.
The choice will be theirs.
Staff members Sunnie Rose Berger and Ric Parish of The Life Group LA, together with the former Volunteer Representative to the Shanti Board of Directors: Mark Lonergan will be the lead facilitators in this transitional period. They are committed to making this transition as smooth as possible with little disruption to the groups. "This is a time for us to step up to the plate, and offer what we can to those in need." said Executive Director Sunnie Rose Berger of The Life Group LA she continued: "Offering choices to persons infected and affected by HIV/AIDS is absolutely part of our mission and I am humbled to be a part of it"
The Life Group LA is a coalition of people dedicated to the education, empowerment and emotional support of persons both infected and affected by HIV/AIDS so that they may make informed choices and decisions regarding their health care and personal well being.
Being Alive LA is an organization operated by and for people living with HIV/AIDS. We understand the pain and the fear, how easy it is to hide, how difficult it can be to come to terms with this disease and to reach out. Being Alive LA is the means we have created to help us connect with each other, bring others out of isolation and take charge of our lives, our care and our destiny.
For more information please call: Ric Parish at: (310) 289-2551