press release
For Immediate Release
Los Angeles
December 19, 2006
Saddle Up LA Recognized As WeHo's Event of the Year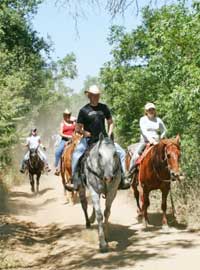 Riders on the trail at Saddle Up LA.
West Hollywood, CA, December 18, 2006 - Saddle Up LA, which raised more than $50,000, was awarded the Outstanding Community Event of the Year at the 6th Annual WeHo Awards Ceremony on Dec. 12.
More than 200 supporters and 75 riders participated in the two-hour guided horseback trail ride on June 2 at the Los Angeles Equestrian Center in Burbank, CA. Some of the riders withstood physical hardships to participate.
"The ride was an affirmation of the power of compassion and a demonstration that ordinary people can accomplish extraordinary things. Not only did it raise money and awareness, it raised people's spirits," said Ric Parish, Associate Director of The Life Group LA.
Saddle Up LA was organized by The Life Group LA, which educates, empowers and provides emotional support to people infected and affected by HIV/AIDS.
"We must continue to educate the community and support those affected by HIV and AIDS. Being honored by the WeHo Awards proves that our community is listening," said Sunnie Rose, executive director of The Life Group LA.
The WeHo Awards honor outstanding achievement in the Lesbian, Gay, Bisexual and Transgender Community in the Greater Los Angeles Area.
The Life Group LA
621 N San Vicente Blvd
West Hollywood, CA 90069
www.TheLifeGroupLA.org
www.SaddleUpLA.org
For More information about The Life Group LA please
visit our website at: www.TheLifeGroupLA.org