press release
For Immediate Release
Los Angeles
May 4, 2007
Sunnie Rose Berger Woman of the Year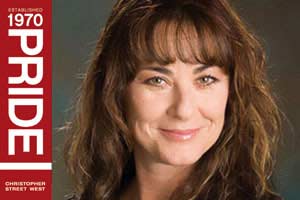 The self-sacrificing nature of Sunnie Rose Berger, stands as an incredible testimony within the LGBT community of a woman whose shinning compassion is a beacon of hope in a sea of fear and darkness. Constantly giving of her time, her talents and her personal resources, her work to support organizations to support individuals living with HIV and AIDS, inspires hope and encouragement for those seeking a happier, healthier and more productive life. Almost a year before the doors of Shanti L.A. were regrettably closed, Sunnie Rose Berger and Ric Parish co-founded The Life Group LA.
Going as far to raise financial support by mortgaging her own home, their preparations and insight bridged important services to remaining Shanti Clients in addition to having already served more than 800 clients on their own. Making a new home for positive growth opportunity she is currently serving as Executive Director of The Life Group LA, she is deeply involved in the Los Angeles Gay & Lesbian Rodeo Association and developed Saddle Up LA (www.SaddleUpLA.org), the first ever AIDS Benefit Horseback Trail Ride. Thank you Sunnie Rose Berger for the warm-hearted and personal embrace you provide to our community.
The Woman of the Year is that individual continually involved in an important undertaking that makes a positive statement for the LGBT community as a whole.
Christopher Street West Association, Inc., is a non-profit service organization within the gay, lesbian, bisexual and transgendered community of Greater Los Angeles, committed to the goals of human rights, education, outreach and better understanding within our community, as well as the heterosexual community. CSW was formed in 1970 to produce the first Lesbian and Gay Parade in Los Angeles celebrating the Stonewall Rebellion on New York's Christopher Street in June, 1969. It was incorporated in 1976. Today CSW brings together the skills, talents and vision of our diverse community to produce the annual Greater Los Angeles LGBT Pride Celebration hosted by the independent City of West Hollywood.
CSW's funding comes mainly from Pride Festival fees, beverage and admission charges, corporate sponsorship and parade entry fees. The City of West Hollywood, where the parade has been held since 1979, waives all permit fees and has consistently been supportive of the Celebration. In addition the city has paid for the sheriff's deputies needed to police the parade route. Any surplus funds accumulated by CSW are returned to the community through various programs. Please visit the Community Benefit page for more information.
CSW is a member and supporter of the LA Lesbian and Gay Chamber of Commerce, Consolidated Associations of Pride, Inc. (CAPI), the Hollywood Chamber of Commerce, InterPride, the International Festival and Events Association, the West Hollywood Chamber of Commerce, the International Lesbian and Gay Association and the Los Angeles Leather Coalition.
For More information about The Life Group LA please
visit our website at: www.TheLifeGroupLA.org