press release
For Immediate Release
West Hollywood, Calif.
Friday, August 17, 2007

The Life Group LA is honored and pleased to announce an array of amazing entertainment for the 2007 Saddle Up LA, AIDS Benefit Horseback Trail Ride, Country BBQ/Pool Party scheduled for August 25th, 2007 after the ride at the Historic River House in Burbank, CA
Please join us in welcoming, Renowned Actor and Comedian Jason Stuart, Singer and Songwriter, Justin Lanning, and the fine tunes of Stephanie Erdel! Also a special treat by, Glen Alen as "Bette ", Jeffery Bowman, Bingo Boy performing a special song chosen just for this eventas well as DJ sounds of Club Personality DJ Lezlee H!, all hosted by our energetic and generous, MC Mystery Mike Hennessey!
"We are excited to be working with these esteemed new and returning Entertainers. Their support of our mission shows their compassion for our mutual community and is indeed incredibly charitable. On behalf of the staff, volunteers and clients of TLGLA, we thank them evermore." Executive Director, Sunnie Rose.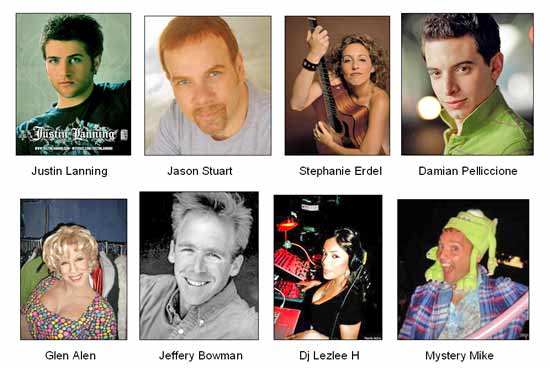 Justin Lanning (www.justinlanning.com)If you had to label singer/multi-instrumentalist Justin Lanning with just one word, it'd be "positive." It is his indomitable spirit that defines him and his music. Lanning is not just confident about his future and the effect that music can have on people's lives; he's so self-assured that it is absolutely infectious. This optimistic spirit permeates his debut CD Behind These Eyes.
Behind These Eyes references many of the twenty-one year-old Lanning's idols: the glossy, power-pop sheen of Bryan Adams; the storytelling prowess of Billy Joel; the classic harmonic sophistication of the Beatles and the Beach Boys; the youthful exuberance of James Blunt; and the energy of blink-182. But like those musical heroes, Justin is his own man, and his personal songs come from a deep emotional well that is unique to him.
The debut single "Take My Breath Away" perfectly captures the innocence of finding a new love and the overwhelming allure of female beauty. More universal issues are tackled on "Voices," where Lanning takes the listener along his search for meaning in the cosmos, highlighting the depth of his spiritual consciousness as the simple melody gradually builds to a multilayered peak centered on an urgent guitar riff. The album's title track encapsulates Lanning's uplifting message of self-esteem, personal growth and championing your inner child. To the delight of those online fans, Lanning plans to take his live show on the road in the spring. His electrifying presence on stage is bolstered by his experience as an actor with over 20 commercials and TV shows to his credit, including winning MTV's "Score" with Ryan Cabrera and a recent role as a murderer on "CSI: Las Vegas."
Jason Stuart (www.jasonstuart.com) Jason Stuart has performed at comedy clubs, colleges and gay events all over the world including at the Montreal Comedy Festival, Town Hall on Broadway, and to Millennium March. As an actor, he has had a recurring role on "My Wife & Kids", playing a gay family therapist. Also guested on "George Lopez", "House", "Fat Actress", "Will & Grace" and "Charmed". In films he has been featured in "A Day Without A Mexican", "Ping Pong Playa", "Gia" with Angelina Jolie, "Ghosts Never Sleeps" opposite Faye Dunaway and in his first starring role in the romantic comedy "10 Attitudes", and currently in "Coffee Date" with Jonathan Silverman & Wilson Cruz. Also just cast in the drama "American Primitive" with Adam Pascel (Rent) and the comedy "Ping Pong Playa". www.jasonstuart.com
Damian Pelliccione (www.damianpelliccinone.com) We are privileged this year to have Damian not only joining us this year as an Honorary Trail Guide, He will also be making you laugh out loud! Damian can be seen on The WB's hit television show "The Gilmore Girls" playing the character of Lance. Past credits include "Ezra" (Portland Oregon Forrest Film Festival- Audience Award Best New Actor) and NBC's prime time television show "American Dreams". Damian also just completed the SAG Feature "Kissing Cousins" a dark comedy to be released this year. Damian is currently playing a supporting role in the "Napoleon Conquers the World" which is being shot in Los Angeles this spring.
Having been raised in Unionville, a suburb of Toronto, Damian is an avid equestrian himself having spent much time riding with his sister. Damian is excited to "Saddle Up" as one of our supporters and an Honorary Trail Guide of our award-winning event!
Stephanie Erdel (www.stephanieerdel.com) Stephanie Erdel has broken into the music scene like a cyclone. Her rock edge mixed with the soul of a blues singer coupled with her pop sensibility endears her to a wide range of fans. Having just released her new album "Sacrifice", and launching her new Burn Lounge Store Stephanie is regionally positioning herself to launch worldwide. The list of musicians Stephanie has worked with is one that is impressive to most, including Tracey "Spacey T" Singleton of Fishbone, Jimi Hazel of 24-7 Spyz, Peter DiStefano Porno for Pyros, and Neftali Santiago of Mandrill. You may have heard her original songs on the Cartoon Network hit "Camp Lazlo" and feature film "Chelsey." And Stephanie herself has had feature interviews with Channel 11 news, The Joey Reynolds Show, and Entertainment Tonight to name a few.
Jeffery Bowman http://www.peacecity.tv/friends/legendarybingo/default.htm Jeffery Bowman is known to many as "Bingo-boy." He created Legendary Bingo, a weekly fundraising event and his work and fundraising were recently profiled in A & U magazine. Jeffery is one of the recipients of Being Alive¹s 2007 Spirit Of Hope Award and is the author of ³Lovelace: The Musical,² a rock opera about Linda Lovelace which will premiere in Los Angeles in early 2008. Jeffery is currently working on a collection of songs
and performing at selected Los Angeles venues.
Mystery Mike Hennessey (www.mysteriesbymike.com) Mystery Mike Hennessey reigns from Boston, MA and has been doing Stand Up and acting for over 15 years now. He has entertained at over 10,000 live events in the past 12 years after starting his Entertainment Company, "MYSTERIES BY MIKE" He is the Nations # 1 Martin Short impersonator (Franc) as well as in the words of Michelle Pfiefer, "The greatest children's performer in the country!" He can be seen this summer in the new Gay Romatic Comedy with Adam Sandler, Kevin James and Jessica Beil entitled, "I Now Pronounce You Chuck & Larry". He is also the founder of a new charity called "www.EXTRACansForTheNeedy.org" and encourages people countrywide to donate their recyclables to the homeless or homeless causes.
Glen Alen(www.glenalen.com) After wowing the crowd at last years SADDLE UP. Glen Alen makes his return! Glen Alen is an accomplished Makeup artist and hairstylist. His resent projects include Americas Next Top Model, Dancing with the Stars, and Days of Our Lives. Glen Alen has been entertaining as an Impersonator for over 20 years. He is the most sought after Bette Midler Impersonator around. This ball of Divine Miss M energy is not to be missed.
Dj Lezlee H http://www.myspace.com/fatty_lez Lezlee H plays a WIDE variety of music (Hip Hop, Old School, Funk, 80's, Dark New Wave, Electro Rock, Indie, POP, Rock en Espanol, Reggeaton, Cumbia, Salsa, TOP 40 hits and ANYTHING that will have you shaking what your momma gave you ALL NIGHT LONG!.... Her credits are spinning at Club Gloss Resident DJ (The Palms-West Hollywood), Club Flaunt (Mic & Macks - Long Beach), Harem Resident DJ (The Dragon Fly - Hollywood) QC's 20/20 (Montebello, CA), The Catwalk (Vertigos), Cinespace (CLUB ENVY), Gitch CD Release Party (The Anarcy Library, Downey), Club Gloss LWord Party (Pueblo Viejo - Hollywood), La Concina Allegria Latina (Long Beach)
Please visit our supporter's personal websites for more info!!
Founded in 2005, The Life Group LA. provides education, empowerment and emotional support to persons infected and affected by HIV/AIDS that they may make informed choices regarding their healthcare and general well being.
Using a variety of methodologies such as peer support groups, public medical forums and the POZ Life Weekend Seminar, the Life Group L.A. creates educational and empowering experiences in a safe, confidential and non-judgmental environment.
Saddle up L.A. 2007 will be a trail ride to remember! It will honor not only those who have died of AIDS but will honor those of us who live on whether infected or affected by HIV.
For details on Saddle Up LA 2007, contact Sunnie Rose at 888-208-8081 or visit our website at www.SaddleUpLA.org . To find out more about The Life Group LA, please visit www.TheLifeGroupLA.org
Winner of the 2006 Weho Awards for Outstanding Community Event!

For More information about The Life Group LA please
visit our website at: www.TheLifeGroupLA.org