press release
For Immediate Release
Los Angeles, Calif.
Friday, October 24, 2007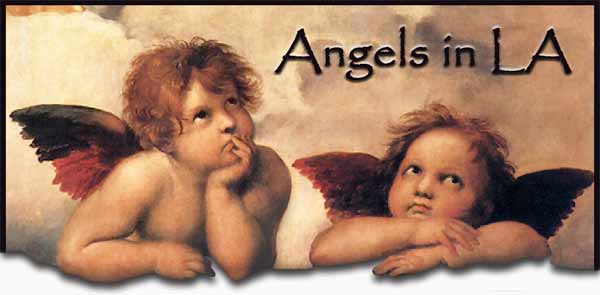 The Life Group LA proudly announces its second annual year-end Holiday Donor Drive and Awards Ceremony: "Angels in LA," honoring Gary Oliphant-Vice President of Wells Fargo Bank, David Giugni-City of West Hollywood and a host of other outstanding community members including: here! Network, Brian Risley, Shelley McKittrick, Joseph Leahy, Harlene Marshall, Tom Royer, Frank Morales and Reggie Ige. These dedicated individuals have contributed significantly to helping persons infected and affected by HIV/AIDS.
"Angels in LA" will take place on Sunday, December 2nd, 2007 from 3:00 – 6:00 pm with Special Guest Host Miss Coco Peru, Award Presenter Mayor John Duran and Singing Performances by Erin Hamilton and Phillip Edwards. Comedian Sandra Valls will also be present to bring on the laughter!
@
ELEVEN Bar & Restaurant 8811 Santa Monica Blvd. West Hollywood, CA 90069
The Purpose of "Angels in LA" is to raise awareness of the AIDS Pandemic to the highest level of consciousness, honor individuals who have contributed significantly to the work of The Life Group LA, enroll new supporters into our collective and raise much needed funds to support the important work we do.
We assert that we are ALL angels in some way and are called to do the greatest of good. As angels, some of us are guardians who bring comfort to those in emotional or physical pain and others who serve as messengers of hope. Others like the Archangel Michael remain poised for battle against suffering. All of us in Los Angeles, this City of Angels, together have the power to create a matrix of healing: One person, one angel at a time.
To purchase tickets or for more information about how to become an "Angel in LA," please visit our website at: www.AngelsInLA.org or call Ric Parish at: (323) 828-9555.
The Life Group LA is a coalition of people dedicated to the education, empowerment and emotional support of persons both infected and affected by HIV/AIDS so that they may make informed choices and decisions regarding their healthcare and personal well being.
Founded in 2005 The Life Group LA, a not for profit corporation provides free of charge, much needed information and emotional support through medical forums, emotional support groups and the POZ Life Weekend Seminar. All services are offered in a non-judgmental and safe environment with compassion and understanding.
For More information about The Life Group LA please
visit our website at: www.TheLifeGroupLA.org