press release
---
For Immediate Release
Los Angeles, Calif.
April 10, 2009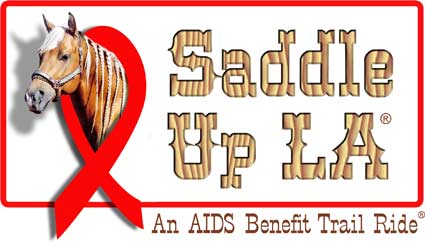 The Life Group LA is honored to present its award winning, 4th annual "Saddle Up LA" AIDS Benefit Horseback Trail Ride, held Saturday, July 11th In the Majestic Griffith Park Mountains.
Please join us in welcoming this year's Honorary Trail Guides, Emmy award winner Leslie Jordan and successful Actor and Philanthropist, Christopher Showerman! "These amazing, generous and sincere guys will be leading us up the mountain in a continued effort to help raise money for The Life Group's invaluable HIV Community Programs, and we are eternally grateful and excited to have their support" says Executive Director Sunnie Rose.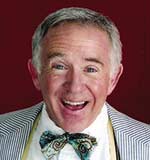 Leslie Jordan, as an avid equestrian himself, will "Saddle Up" as one of the supporters and Honorary Trail Guides of our award-winning event! Leslie is the 2006 Emmy Award Winner for Outstanding Guest Actor in a Comedy Series for his delicious portrayal of "Beverley Leslie" on "Will and Grace." Television audiences will also remember him for his recurring roles on "Privileged," "Ugly Betty," "Boston Legal," and "Reba." Feature film audiences will recognize Leslie from his performance as "Brother Boy" in Del Shores' adaptation of his play "Sordid Lives'" with Olivia Newton-John, Delta Burke and Beau Bridges. He is reprising the role in the television series based on the play and film for the cable network Logo. Other upcoming feature film appearances include "Love Ranch" in a wonderful scene with Helen Mirren directed by Taylor Hackford. On stage, Mr. Jordan won the Ovation Award, The Garland Award and The Los Angeles Drama Critics Circle Award for his portrayal of "Preston Leroy," the aging, sodden barfly in Del Shores hit play "Southern Baptist Sissies."
Mr. Jordan has enjoyed considerable success as a writer. His book My Trip Down the Pink Carpet for Simon and Schuster is currently in bookstores. Material from the book formed the basis of a 90-minute one-man show, which had a successful 45 city book-signing/performance tour in 2008. A dvd of the show shot during performances in Atlanta will be released. Leslie's autobiographical one-man show "Like a Dog on Linoleum" performed to sold-out audiences at the Elephant Asylum Theater in Los Angeles, the Annenberg Theater in Palm Springs, the Bailiwick Theater in Chicago, the 14th Street Playhouse in Atlanta and the Lorraine Hansberry Theater in San Francisco. Mr. Jordan's play "Hysterical Blindness and Other Southern Tragedies That Have Plagued My Life Thus Far" ran to sold-out houses in Los Angeles and had a successful run Off-Broadway at the Playhouse on Van Dam in New York City. His screenplay "Lost in the Pershing Point Hotel" won the Los Angeles Independent Film Festival's Production Grant Award, winning the competition from over 600 other scripts. Subsequently, it was made into an independent feature film distributed by Northern Arts Entertainment. www.thelesliejordan.com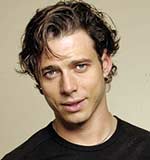 Christopher Showerman, also a skillful equestrian, actor of television, stage and film, will ride with us to continue showing his commitment to making a difference in the lives of people both infected and affected by HIV/AIDS! Christopher integrates his fortunate successes with also giving back abundantly to a community in need.
He has been the lead in movies rolls such as "A Night at the Bijou" and "Sand and Sky" "George of the Jungle 2", "Complacent", "Parfection", "Live Fast, Die Young", "Commander & Chief" to name a few and featured in lead rolls in television shows, such as "The O.C.", "CSI Miami", "Jack Of All Trades" and "Hollywood Safari". His theatre career has stretched across both coasts, with significant contributions in several productions, most notably, "The Rocky Horror Picture Show" and "Rush Limbaugh in Hell" as well as "Legends!", "The Star Spangled Girl", "Bleacher Bums"," Closer Than Ever" And "Lies And Legends". Chris is working now on a new project called "The Land that Time Forgot" directed by C. Thomas Howell. In this project he will be teamed up to work with veteran actor Timothy Bottoms.
As a working actor for many years, Showerman has always been eager to take part in several charities benefiting AIDS and various other causes. He leant his support to "The Orange County Aids Walk", The Elizabeth Glasier "A Time for Heroes" event and also The Christopher Reeve Paralysis Foundation. He is currently working on a number of projects to be released soon! www.christophershowerman.com
Founded in 2005, The Life Group LA provides education, empowerment and emotional support to persons infected and affected by HIV/AIDS that they may make informed choices regarding their healthcare and general well-being.
Using a variety of methodologies such as peer groups, public medical forums and the POZ Life Weekend Seminar, The Life Group LA creates educational and empowering experiences in a safe, confidential and non-judgmental environment.
Saddle Up LA 2009 will be a trail ride to remember! It will honor not only those who have died of AIDS but will honor those of us who live on whether infected or affected by HIV.
For details on Saddle Up LA 2009 or to register for the ride, contact Sunnie Rose at 888.208.8081 or visit: www.SaddleUpLA.org
For More information about The Life Group LA please
visit our website at: www.TheLifeGroupLA.org